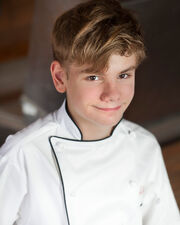 Winner Of MasterChef Junior Season 2 (2014)
LOGAN GULEFF
Bio
Logan Guleff became winner of the national television show called MasterChef Junior on FOX in December 2014. MasterChef Junior is a culinary competition series that gives talented kids between the ages of eight and 13 the chance to showcase their culinary abilities and passion for food through a series of challenges. Out of 20,000 applicants, Logan cooked his way and earned the the title of MasterChef Junior. Host and award-winning chef Gordon Ramsay (Gordon Ramsay Steak, Gordon Ramsay Pub & Grill, Gordon Ramsay BurGR were joined by restaurateur and wine expert Joe Bastianich (Del Posto, Eataly) and acclaimed chef Graham Elliot (Graham Elliot Bistro) on the MASTERCHEF JUNIOR judging panel ( https://www.facebook.com/LoganJuniorChef) .
Born and raised in midtown Memphis, Logan Guleff is an  up and coming "foodie" , who is never shy of trying new foods and experimenting with different flavors. He doesn't have the taste buds of a normal 11 year old. He chronicles his food adventures on his blog  http://orderupwithlogan.blogspot.com/ . His palate and creative spirit has landed him in some unusual places.
One of his recipes landed him in New York City on the NBC Today Show. Logan earned a top 5 finalist for the Jif most creative peanut butter sandwich (http://www.youtube.com/watch?v=i9PfDh93zOE ). Along with the trip and money for college, he received a personal tour of Gordon Ramsey's Maze Restaurant.  
Another one of his recipes sent him to meet the First Lady and the President Obama as the Epicurious Kid's State Dinner Healthy Lunch Challenge Winner for the State of TN (the first of its kind, promoted and inspired by Michelle Obama). The day included a reception, photo with the first lady, lunch in the East room, visit from the President, entertainment from Big Time Rush, tour of the White House Garden, and even a sample of White House Honey!
He has also rubbed elbows with hometown politicos Mayor AC Wharton and Jim Strickland, when Logan received a resolution from the City Council on his "Great Work" representing the State of TN and the City of Memphis in his culinary achievements. He also volunteers at St John's United Methodist soup kitchen.
Recently pitched a business idea to the Start Co. community (formerly Launch Memphis) and was selected for participation in the 48 Hour Launch Challenge. His current business focuses on promoting Memphis Barbeque locations around town (www.BarbequeMemphis.com).  
Blog:          http://orderupwithlogan.blogspot.com/
Instagram:  http://instagram.com/Logan.Jr.Chef
YouTube:   http://tinyurl.com/ojtd2vg
Facebook:  https://www.facebook.com/LoganJuniorChef
Twitter:      https://twitter.com/LoganJrChef