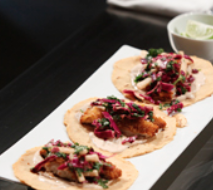 Ingredients
Edit
For The Fish
Edit
4 tilapia fillets
1 cup all-purpose flour
2 cups panko breadcrumbs
3 eggs, beaten
salt and pepper
For The Marinade
Edit
2 cups hoppy beer, like IPA
5 limes
2 teaspoons garlic powder
2 teaspoons chili powder
2 teaspoons ground cumin
1 teaspoon black pepper
1 teaspoon salt
For The Slaw
Edit
1/2 head red cabbage
1 small jicama root, julienned
3 tablespoons cilantro, finely chopped
For The Tortillas
Edit
1 cup masa harina
2/3 cup water
1 teaspoon salt
1 tablespoon canola oil
For The Chipotle Sauce
Edit
1 cup sour cream
1/2 cup buttermilk
1 lime
1 tablespoon chipotles in adobo
queso fresco
1 butternut squash
canola oil
Directions
Edit
To Make The Marinade
Edit
Add 2 cups of IPA, the juice of 4 limes, and spices, stirring thoroughly.

Add half of marinade to tilapia fillets and seal in a Ziploc bag, placing in the fridge.

Julienne the jicama and shred the red cabbage, place in a bowl with the remaining marinade.
To Make The Tortillas
Edit
Add hot water, oil, and salt to the masa harina, knead until smooth, wrap in plastic wrap and set aside.

Later, press masa harina into tortillas and cook on a cast-iron skillet a few seconds on each side.
To Make The Chipotle Cream
Edit
Whisk together sour cream, buttermilk, lime juice, spices, and adobo sauce. Refrigerate.
To Make The Crispy Pumpkin
Edit
Cut open pumpkin, scrape out seeds, and julienne.

Deep fry strings in 350°F oil until lightly browned and crisp. Salt and set aside.
To Make The Tacos
Edit
Remove the tilapia from the marinade and dredge in flour, dip in egg wash, and press into seasoned panko crumbs.

Pan fry in 350°F oil until golden and done.

Drain slaw from marinate, add chopped cilantro.

Plate by spreading chipotle cream on a tortilla, top with slices of crispy tilapia, crumbled cheese, slaw, and crispy pumpkin strings.