The much-anticipated MasterChef Australia Season Two is here – bigger and more delicious than ever before
Edit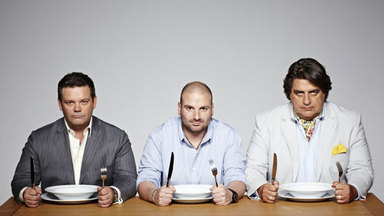 It's been described as a television phenomenon, inspiring millions of Australian families to try their hand at mastering a culinary feast fit for a king. And now, MasterChef Australia is back to exhilarate and entertain like never before.
As a record-breaking 4.1 million viewers watched Julie Goodwin crowned as the country's first MasterChef last year, thousands of budding cooks from around Australia applied for this second series for their chance to emulate Julie's fairytale win.
From university students, farmers, tradespeople, teachers and stay-at-home mums and dads to doctors, lawyers, engineers and accountants, they all applied with one common ingredient – their love of food.
From 8000 applications, they were eventually whittled down to just 50 people. This group of gourmands battled it out to take a place in the final 24, up from last year's group of 20 people. Over 14 gruelling weeks of cooking challenges, one person will eventually be named as Australia's new MasterChef.
Among all the new faces, however, remain three iconic figures; men, who were catapulted to household names – award-winning and respected chefs and restaurateurs Gary Mehigan and George Calombaris, and one of the world's most acclaimed food critics Matt Preston.
Individually, the judges' successes are astounding. As a group, their experience, advice and mentoring to a group of home cooks determined to be up there with the world's best chefs, is nothing short of inspirational. A cheeky smile from Gary, an uplifting comment from Matt, and a second spoonful of a dish from George means everything to a MasterChef Australia contestant.
The MasterChef dream is one where ordinary Australians can have their cake and the icing too. The judges are putting their own reputations on the line to mould the best chefs they can, but make no mistake, the pressure to achieve that dream can reach boiling point.
In Season Two of MasterChef Australia, the challenges will be bigger, the expectations higher and the competition more intense. From incredible challenges aboard a P&O cruise ship, to time-pressure challenges with mystery boxes filled with exotic ingredients, cooking challenges against world renowned chefs, to tasks that will test their cooking creativity, this is an apprenticeship into the fiery world of cooking that certainly isn't for the faint-hearted.
For the love of food, let the MasterChef Australia Season Two competition begin!
Surplus food from the MasterChef kitchen is donated to OzHarvest. For further information about OzHarvest go towww.ozharvest.org